SPORTS DEVELOPMENT COMMITTEE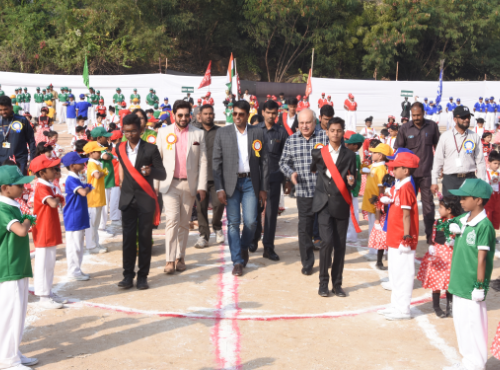 The Sports Development Committee of Sultan-Ul-Uloom Education Society was constituted on the 9thAugust, 2005. The Committee oversees and provides guidance for promotion and development of sports and conducts activities of the constituent institutions of the Society in close coordination and full involvement of the concerned Principals/Directors.
The Sports Development Committee takes services of qualified Coaches to impart coaching to the students for Inter College Tournament and Centralized Sports activities.
The responsibilities of the Sports Development Committee are as follows:
Preparing the selected students for Competitive Level under the supervision of qualified Coaches;
Organizing the intramural and extramural tournaments for the students;
Motivating the students by awarding cash/incentive to outstanding sports persons;
Providing facility to the players to participate in the international level competitions;
Conducting the sports events for the Staff and Students every year and awarding the prizes for the winners;
Reviewing the sporting activities in the Governing Council Meeting of the Sports Development Committee;
Felicitating the International players for representing India.
| Constitution of the Sports Development Committee | |
| --- | --- |
| Syed Aamer Javeed, - Member, BOG, SUES | Chairman |
| Mr. Nisar Ahmed - Member BOG, SUES | Member |
| Mr. Syed Baquar Hassan - Member, SUES | Member |
| Mr. Mohammed Abdul Qayum Khan - Member, SUES | Member |
| Mr. Zafar Javeed - Hony. Secretary, SUES, Ex-Officio Member | Member |
| Dr. Basheer Ahmed - Advisor-cum-Director, MJCET | Member |
| Mr. Shaik Mustafa - Principal, SUJC & OSD, SUES | Member |
| Mrs. Arpana Saxena - Principal, SUPS, Banjara Hills | Member |
| Mr. Md. Zabihuddin - Physical Director, MJCET | Convener |