Faculty
The teaching fraternity of MJCET is best known for their intellectual virtue in their respective fields, stimulating teaching techniques, dynamic enthusiasm, sound character, flexibility and their grounded ethical confidence. The strength of MJCET is indeed a reflection of their skills, innovation and passion.
In their intellectual pursuit, the self-motivated faculty of MJCET not only take responsibility of shaping future engineers but are also very conscious about their own professional development. Thus, they exhibit deep involvement in cutting-edge research and keep themselves abreast with new developments in the realm of science and technology.
The greatness of a professional institution does not lie only in generating greater numbers in terms of university ranks or students' placements, but also depends on its research culture that aims at impacting the society by large with its research innovations. The successful patented projects such as 'Solar Powered Spinning Wheel' or 'Personal Safety System to Protect Individual from Attackers' indeed prove this very objective of materializing a novel idea to touch the lives of common people in the society. In addition, the faculty have been extensively engaged in publishing articles in nationally and internationally recognized journals. They have authored books, delivered scholarly lectures, presented papers on national and international conferences and seminars and embraced various service oriented roles.
There are 176 faculty members working in various branches of MJCET out of which 28 are professors, 35 are Associate Professors and 113 are Assistant Professors. The Faculty-Student ratio is 1:20.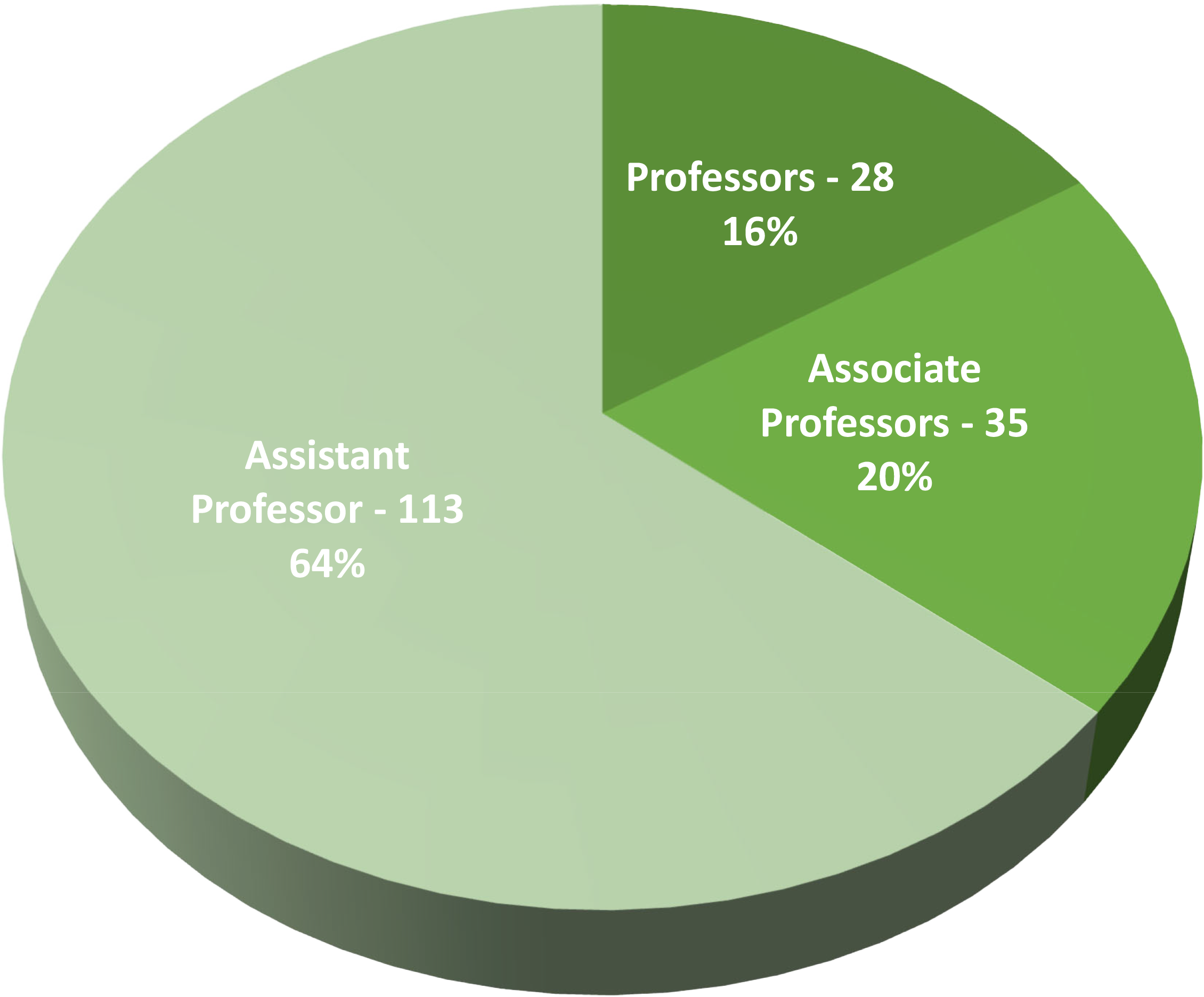 R & D
In the era of globalisation the role of research in an academic institution is essential for its sustainability and growth. MJCET believes that it is imperative to have knowledge-driven growth based on innovative ideas. Behind every research there is an inquisitive mind that longs to go beyond the set frame. The research and development initiatives taken by our institute are anchored on building a research culture among students and faculty which in turn strengthen the knowledge foundation. The valuable knowledge gained through research enables the faculty to make significant value-addition to the classroom teaching and consequently help students to internalize the theoretical knowledge to come up with technological solutions with societal impact. The institute provides grants-in-aid for individual as well as collaborative work related to futuristic research that promises to solve multifarious issues faced by the society. The Research and Development centre also assists faculty, research scholars and students in filing research proposals for grants from various funding agencies like DST, AICTE, MHRD etc. and also facilitates the process of filing of IPRs like patents and copy rights.
The research ambience is consolidated with the state-of-the-art laboratories, research centres, highly equipped library, liberal funding and most importantly, the self-motivated and passionate faculty who along with their expert teaching aid in evolution of the institute as a knowledge-reservoir. The successful patents attest the fact that, when an institution aims at catalysing the germination of ideas, it is bound to create its brand in the academic and in the industrial realm.
R & D at a glance:
Budget for 2020-2021: 38 lakhs
Average No. Of R & D projects in a year : 14 projects
No. Of Patents granted: 2
No. Of Patents published: 3
Consultancy
The Civil Engineering department of MJCET extends its human resource and research infrastructure to offer consultancy services to both government and private organizations. The competent faculty of the Civil Engineering Department have been rendering their consultancy services since 2003 which in turn strengthen industry-academia relationships. The clients benefited through the expertise of the faculty include GHMC, National Consultancy for Planning and Engineering, A.P. Police Housing Corporation and so on.
For illustration, a list of the types of consultancy services being offered is given below:
Proof checking and structural designing of building of AP Police Housing Corporation.
Stability check of buildings hoisting mobile phone towers in GHMC area.
Third party quality control of road work area which includes Mix design, quality check for water bound Macadam road, Cement concrete roads and Bitumen roads in GHMC limits.
The department also has signed MoU with National Consultancy for Planning and Engineering (NCPE) as a third party quality control check for design of Civil Engineering projects like Sewage Treatment Plant (STP), over head water tanks, buildings, water supply and road network for Telangana Government's prestigious 2 BHK Housing Project.