In view of the directions of the Hon'ble Supreme Court in SLP No. 24295 of 2006 dated 16th May 2007 and in Civil Appeal number 887 of 2009, dated 08th May 2009, each institution established by the Sultan-Ul-Uloom-Educational Society constituted its own Anti-Ragging Committee to prevent and prohibit the menace of ragging in all its forms.
The Anti-Ragging Committee formed by the faculty of the particular institution is responsible to create a ragging free environment in the campus. It also oversees the performance of the Anti-Ragging Squad that not only keeps a vigil to curb any incident of ragging in the campus premises but also takes the responsibility to create awareness among students about the ill-consequences of ragging and the stringent punishments for being involved in any such wrong deed.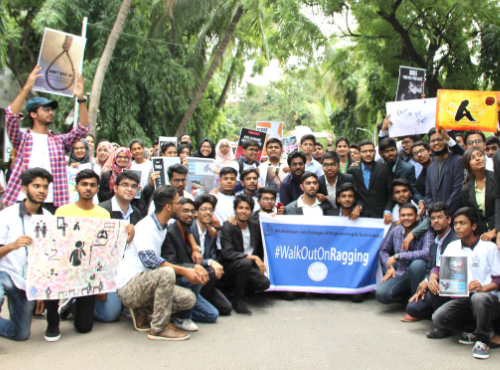 In case of any emergency students can seek help by calling the 24X7 Anti-Ragging Helpline number. The list of punishments/legal consequences, as per the Supreme Court orders that can inflict upon a guilty person is displayed in every classroom, for example:
Debarring from appearing in any sessional test / University Examination
Suspension from attending classes and academic privileges
Withdrawing scholarships and other benefits
Suspension from the college for a period of one month etc.
Any complaint is treated in a confidential manner. The institutions conduct an array of awareness programmes to orient students towards a meaningful study culture and thus successfully create a safe and conducive academic environment.