Grievance Redressal Cell
Each institution under Sultan-Ul-Uloom Education Society has constituted its own Grievance Redressal Cell to probe into the grievances of students, faculty and staff. It creates a platform where the stakeholders can raise their problems, regarding academic and non academic matters. They can state their grievances online or through suggestion-box. The Cell ensures that the privacy of the complainant is not violated. It conducts regular meetings to examine the grievances received and also proposes necessary and hassle free measures as per the Management policy to resolve the same in a stipulated time.
---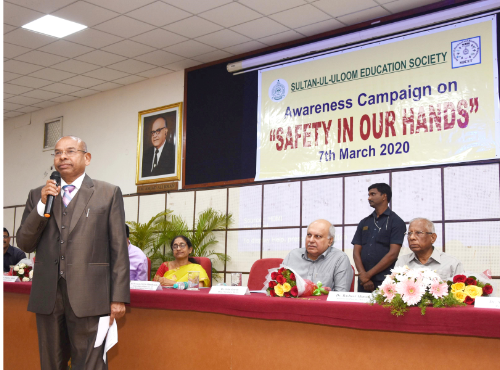 Women's Grievance & Redressal Cell
In compliance with the directions of the Supreme Court of India to have a special Sexual Harassment Committee as mandatory, the Women's Grievance Cell in each institution under Sultan-Ul-Uloom Education Society also functions as Sexual Harassment Committee. The functions of the cell are to purely safeguard the rights of female students, faculty and staff members. It aims at equipping them with the knowledge of their legal rights and redressal of their grievances. To facilitate speedy delivery of justice, meetings are organized regularly. The Cell processes both oral and written complaints. Various seminars and lectures by experts and eminent personalities to stop violence against women, sexual harassment at workplace are organized by the Cell.
Former Justice G. Chandraiah addressing the gathering at SUES on 'Gender Equality and Safety 'on the occasion of Women's day on 07-03-2020
It encourages students to express their grievances frankly without any fear of being victimized. Besides online platform, several complaint boxes are installed in which the students, who want to remain anonymous, can state their grievances in writing. The members of the Cell discuss the issue with the chairperson and tries to find an appropriate solution. If not solved, the grievance is taken up to the Principal and legal advisor for further help. It is the genuine effort of the Cell that no instances of sexual harassment have been reported so far and learners are encouraged to maintain a conducive and respectful learning environment in the campus premises.
---
SC/ST Grievance Redressal Committee
Grievances Redressal Committee for SC/ST is function in all the constituent institutions on the campus. This Committee helps Students as well as employees to record their complaints and solve their problems related to academics, resources and personal grievances.
The SC/ST students and employees are free to register their grievances without any fear of being judged. The grievances are acknowledged promptly and the committee tries to resolve the issue at the earliest. A monthly report is submitted to the head of the institution by the committee convener mentioning the complaints and suggestions received and the action taken.